When you build timber frame buildings using old-world techniques and the finest selection of raw lumber, you are promised a timeless structure created to minimize building maintenance and remain naturally beautiful, structurally sound, and energy efficient for many generations.
Whether you are building an outdoor pavilion, a custom timber frame home, a log home, or something as large as a commercial timber frames building, timber frame construction allows for structural integrity and beauty both indoors and outdoors. At Mid-Atlantic Timberframes, our timbers come mainly from Douglas fir, eastern white pine, red cedar, and oak. These natural materials are strong and beautiful, but also easy to maintain. To keep your high-quality timber frame buildings looking brand new, keep the following maintenance tips in mind.
Exterior Maintenance of Timber Frame Construction
When it comes to preventing damage or decay to your heavy timber structure, protecting it from the weather is an important first step in maintaining its beauty and structural integrity. At Mid-Atlantic Timberframes, we incorporate the following into our outdoor timber frame construction designs:
Stainless steel or aluminum plates hold timber frame posts or columns of concrete or flagstone floors. This prevents cracks due to trapped moisture from forming.
Roof gutters prevent back splash.
Large roof overhangs shade and protect the structure from the elements, including rain and UV rays.
After the preventative steps taken during design and construction, your timber frame house or timber frame commercial building requires very little building maintenance. However, you should still make regular checks of the structure as part of your building or home maintenance routine and be mindful of the weather in your climate.
Weather of any kind — rain, snow, wind, and sun — will cause damage to a heavy timber structure, anything from discoloration to deterioration and rot. Wood can dry out, or it can be damaged by mold or mildew from too much moisture. To help protect your timber frame building, the best thing to do is apply one or two coats of a high-performance outdoor stain within two months of your structure being built. If you have the opportunity, you can even do this before the structure is erected. Applying that second coat of stain will increase the lifespan of the first application by a few years.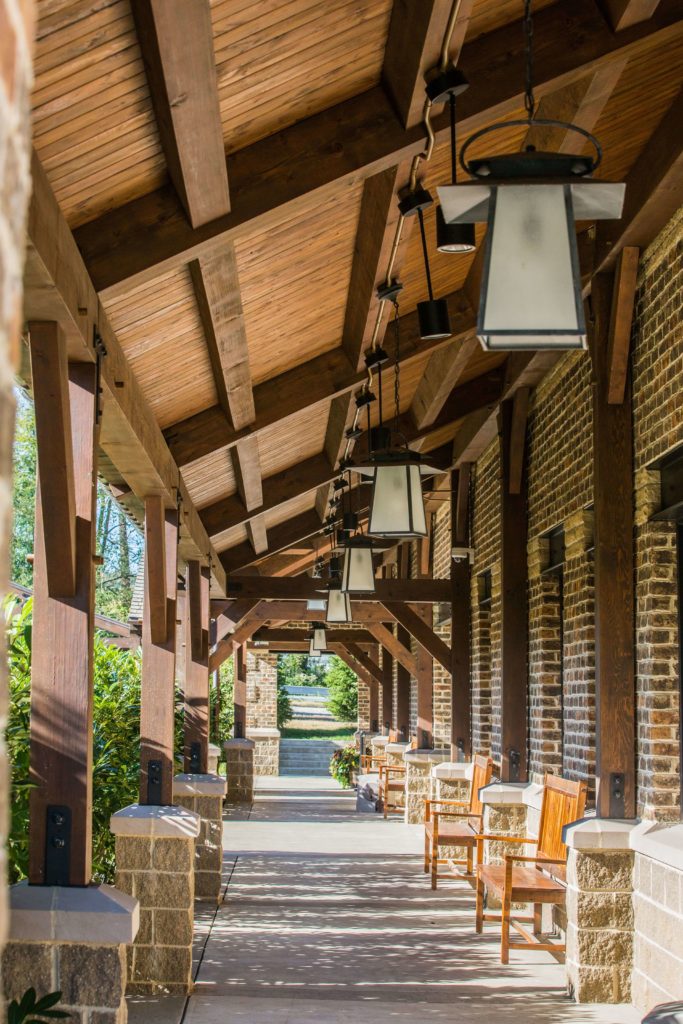 Of course, outdoor timber frame structures still require new stain every two to six years, depending on UV and weather exposure. For an exterior timber frame, you need a product that aggressively repels water while still allowing the wood to breathe. We recommend applying stain:
Every 2–3 years if your posts and other features are exposed to sunlight / UV rays and weather.
Every 5–6 years for rafters and roof structures that are under cover and not exposed to the sun, rain, wind, and snow.
Keep an eye on your exposed timbers. When they start to fade, it is time to reapply a coat of stain. If you wait until the stain is completely broken down or faded, you have waited too long.
Do not wait until the wood grays and weathers, or you'll likely have to strip the stain and start over. Even if you use a medium- to dark-colored stain on the timber, direct exposure to sunlight every day will cause the color to fade.
Keep the following rules of stain application in mind. If you are diligent and able to stain before you notice any graying, it will be a much easier job:
Wash your heavy timber structure with TSP (tri-sodium phosphate). It is a general-purpose, but powerful, detergent that will remove grime, dirt, and mildew along with any old finish that is not adhering to the wood. Mix half a cup of TSP with two gallons of hot water and apply to your wood and scrub. Make sure you follow all safety precautions and directions on the product's instructions.
Rinse with a pressure washer to ensure no soapy residue remains, and allow the wood to dry for a few days.
Apply new stain.
If timber has grayed and weathered, you will want to do the following instead:
Use a chemical called oxalic acid. It is also referred to as wood bleach and is less harmful than chlorine bleach. Mix one part oxalic acid with six parts warm water, apply liberally to the wood, and scrub with a brush. The oxalic acid will strip the old stain and prepare your

timber frame

structure for a new coat of stain. Make sure you follow all safety precautions and directions on the product's instructions.
Use a pressure washer to remove any residue, and allow the wood to dry for a few days.
Apply new stain.
There are several outdoor stains on the market today in a variety of shades and saturations. They are available in natural translucent, saturated and ultra-saturated. The oversaturated shades have so much pigment, they're almost like paint, but they still remain breathable, which is important for building maintenance.
This is a good time to mention protection against insects too, which can also damage heavy timbers. Treating wood with a borate solution can help. This should be done before you oil or stain the wood.
Interior Maintenance of Timber Frame Construction
While we have been focusing mainly on maintaining the integrity of the exterior of your timber frame structure, you should not forget about the interior of your timber frame home or other timber frame building. The beauty of the interior of your timber frame structure is that it doesn't need much maintenance.
A natural oil, like a linseed or tung oil, is a great product to use on interior timber frame components. It's easy to apply — just use a brush, rag, or roller, and follow the instructions on the packaging. You'll want to look for a product that is wet enough for quick penetration but with enough solids for a rich, water-resistant coat. The final look will be a matte finish with a nice sheen.
An oil finish also helps make it easier to keep timber frames clean and dust-free, because dust will sit on the surface and not seep into the wood. Year after year, just a quick dusting of your timber frame home interior will be all you need to keep it clean!
We have seen a trend in painted wood frame interiors, particularly for modern-style timber frame homes. There are many nice products to choose from; however, we recommend using a solid stain in lieu of paint, because it allows the timbers to dry naturally and properly. If you do paint the timbers with an actual commercial-grade paint, the timbers must be fully dried (kiln dried) before paint is applied.
We also recommend the use of a humidifier in your timber frame home or commercial building. We consider timber to be a living, breathing tree for, basically, forever, but especially in the first few years. One of the biggest enemies of heavy timber is super-low humidity. If your commercial timber frames building or home uses forced air or radiator heating, your air can become very dry, making for an interior with very low humidity, which can affect timber even if it is kiln dried. While your timbers are acclimating to their new environment, they expand and contract, so it is important to have a humidifier as part of your system (NOT a dehumidifier) to keep humidity at a perfect level. And, not to mention, it's a healthy home enhancement too.
Building with heavy timber provides you with unsurpassed strength and durability, timeless elegance, and beauty. When you consider timber frame cost per square foot and the time and resources to build this way, you want to protect your investment. Following these maintenance tips will help keep your timber frame structure strong and beautiful for generations!