When Japan-based Ryuichi Ashizawa Architects was tasked with designing a Pennsylvania facility for JST, a global maker of small electrical connectors, they needed to accommodate both manufacturing and office spaces. The mandatory mission was to design a building that would blend into and complement the surrounding wooded area. And with that demand, they turned to mass timber.
Ashizawa brought in US-based Arcari + Iovino Architects to deliver a facility that pays homage to the geometric beauty found in nature. To address key client needs, the structure had to: include large spaces connecting the manufacturing and office areas without the two feeling disjointed, work well with the surrounding natural environment, and serve as a home for the company that is as unique as their business.
Designing with Mass Timber
Mass timber is nothing new, arriving on the scene in the 1990s. But now it is rising in prominence in the US market thanks to design visionaries incorporating more mass timber into commercial projects. Mass timber is quickly becoming the building material of the future, touted for its (albeit surprising) fire resistance, quicker build/installation timelines that contribute to less waste and lower labor costs, and its ability to withstand seismic events.
The two architecture firms leveraged mass timber to create this unique commercial facility, coming in at 51,563 square feet, with a perimeter that is a half-mile long. The single-level building is an ode to nature — with a nod to the geometric shapes found in many natural elements — and the use of mass timber creates a warm, welcoming, and distinctive vibe.
The structure straddles the line between a sense of ebbing and flowing movement and crisp, sharp lines. It cascades down the property's subtle grade, yet its angular nature creates interest and provides wayfinding. Featuring over 70 inside and outside corners, the building's dendritic shape is the object of immediate attention, a study in fractal geometry shaped by the site's natural conditions.
The sharp-angled configuration is constructed of thousands of uniquely cut and milled timber components that were fabricated and assembled carefully. From small, intricately CNC-carved pieces to 83-foot-long timbers weighing over 17,000 pounds, there are nearly 5,000 individual timber pieces in this project, and no two are alike. The custom design called for a heavy timber fabricator with the expertise and capacity to execute such a demanding project. Mid-Atlantic Timberframes, a PA-based timber framing manufacturer, led the charge and custom fabricated each piece of timber with detail and care.
"Mass timber construction is strong, durable, and energy efficient, helping architects and specifiers create completely custom structures that help them leave their unique design footprint," said Sam Ebersol, general manager of Mid-Atlantic Timberframes. The structure's striking geometry presented a fair share of challenges, including:
Site Gradation: The soffits and large overhangs are at various angles and pitches to account for both the property's natural slope and the angle of the sun throughout the seasons. From the front entrance to the rear exit (612 feet) is a 20-foot difference in grade. The front entrance has 10-foot ceilings, and the building rear has 20-foot ceilings — creating a 30-foot roof gradation from one end to the other.
Soffit Pitch: The slope made for some tricky problem-solving at exterior corner soffits. The overhangs average between six and eight feet in length from the outside wall. The pitch meant that the Mid-Atlantic Timberframes team had to warp the wood ever so slightly, like a propeller blade. The narrow boards molded to the contour.
Long Beam Spans: Some of the long spans required steel reinforcement. To preserve the timber aesthetic, Mid-Atlantic Timberframes split the timber in half, routed it, and then situated a steel I-beam inside.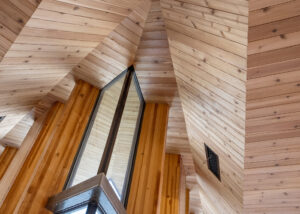 Mid-Atlantic Timberframes helped the project team navigate these unique design challenges, creating a structure that is both sturdy and environmentally sound. "We are committed to preserving natural resources and combating deforestation by being certified by the Forest Stewardship Council® (FSC® C164575)," said Ebersol. "All of the wood used in our brand's timber products is sourced from well-managed forests where suppliers plant as many as ten times the number of trees they cut down. In addition, we make sure the timber waste produced in our manufacturing process is recycled."
A Mass Timber Masterpiece
The resulting design is not only visually stunning, it provides JST with a home that has exceptional dimensional stability and rigidity, a high thermal envelope, and high fire resistance. And thanks to mass timber's shorter construction timelines and reduced impact to the job site, the project stayed on time and on budget.
To learn more about leveraging mass timber in your next project, visit Mid-Atlantic Timberframes online, reach out to them directly at 717.288.2460, or email Sam Ebersol at samuel.ebersol@midatlantictimberframes.com.